Cavan Denture Clinic
Garrett MacEnrí
Cavan Denture Clinic, 25 College Street,
Cavan Town, Co. Cavan
Tel: 049 4365757 – Fax: 049 4365757
Email: info@cavandentureclinic.com
Website: www.cavandentureclinic.com
Garrett MacEnri who owns and runs Cavan Denture Clinic located in cavan Town Ireland, is a fully qualified Clinical Dental Technician. Garrett is a pioneer of clinical dental technology in Ireland and was instrumental in getting recognition for CDTs in this country.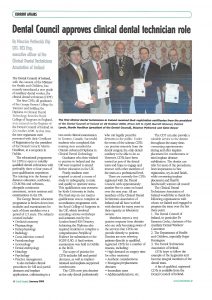 He was part of the first cohort of clinical dental technicians registered in Ireland.
Garrett has over 25 years of experience in dental technology. He is a graduate of the Belfast institute of Higher and Further Education where he received a BTEC diploma in dental technology. He went on to study clinical dental technology through the George Brown College, Toronto where he received an advanced diploma in clinical dental technology. He then trained further through the Royal College of Surgeons, UK where he received a diploma in clinical dental technology.
Garrett has dedicated his professional life to constantly updating his knowledge and expertise. His extensive continuous professional development has taken him all over the UK, Canada and Holland in an effort to provide the best denture treatment available.
At Cavan Denture Clinic the latest in cutting edge technology is used.
At Cavan Denture Clinic we have a full range of denture treatment available:
Full upper and lower dentures
Acrylic part dentures
Chrome dentures
Implant retained dentures
Denture repairs
Denture relines
Emergency dentures
Cavan Denture Clinic has a convenient high street location on one of the main streets entering Cavan town.  It is a two minute walk from the bus station. Thanks to the new Cavan/Dublin motorway Dublin is only an hour away by car.
Our Location
---